Amazon cleaned up and the product was pulled from shelves for WEEE review.
As the European Union authorities have stepped up efforts to crack down on illegal products, amazon and other major sites have also begun to crack down on violations on their platforms.In Germany, for example, since the VAT review, another important certification has been reviewed -- WEEE certification.
One German seller posted on an online community asking for help: The product was taken off the shelves because it was not approved by WEEE.

And many sellers were complained earlier because they failed to meet the requirements of EU WEEE regulations. They also received rectification emails from Amazon one after another: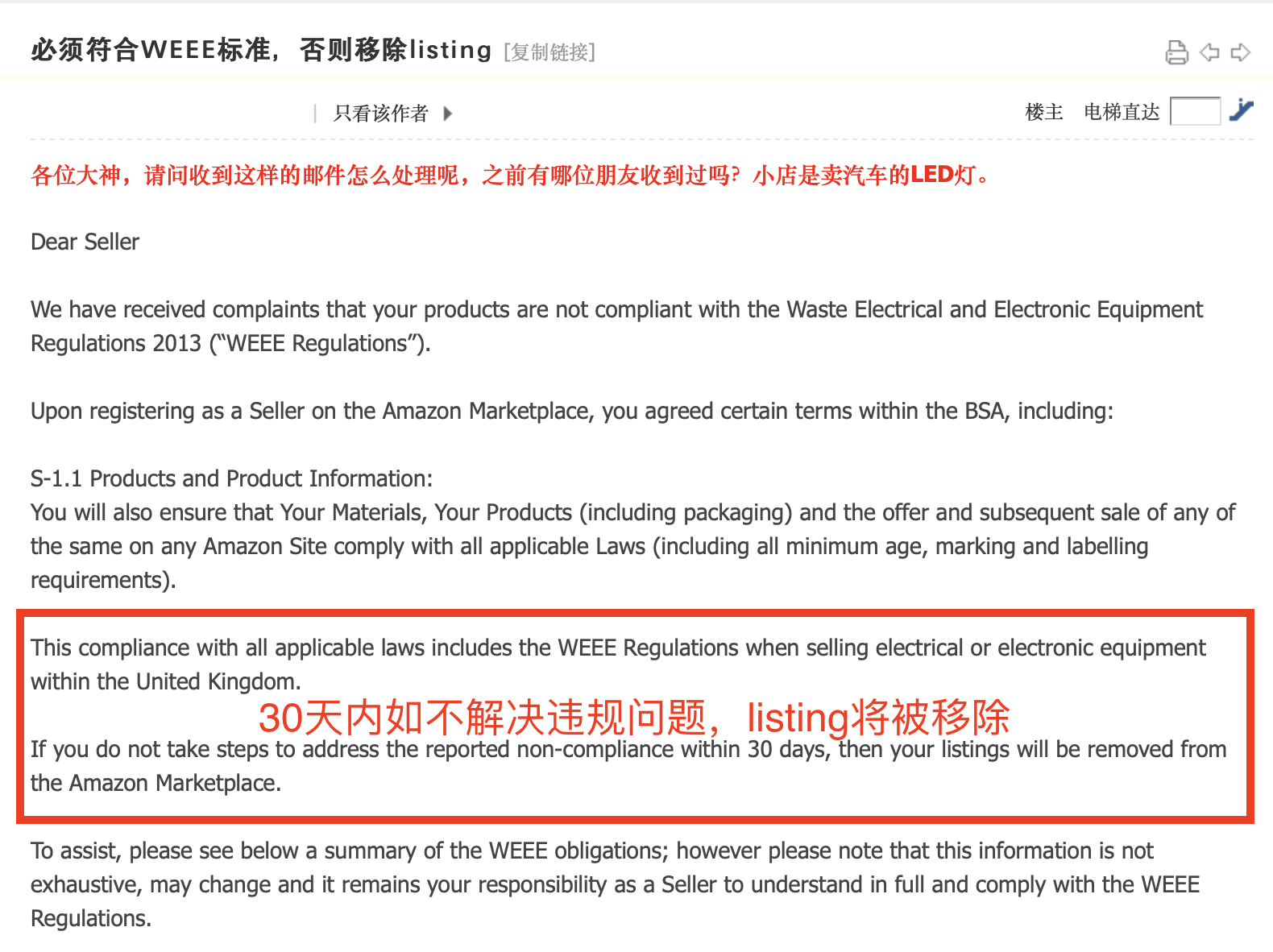 It can be seen from the email posted by the seller above that the seller is selling automobile LED lights. Because the products do not comply with EU WEEE directive, the seller was complained, which LED to the removal of the Listing.
When electronic and electrical products need to provide WEEE certification, how should the seller solve it?We will first help you to have a general understanding of WEEE certification, and then list the required documents for WEEE certification.
What is WEEE certification?
In 2002, the EU adopted two directives with great influence on electronic and electrical equipment: the WEEE directive (on WEEE) and the RoHS directive (on the prohibition of the use of certain hazardous substances in electronic and electrical equipment).
In 2005, the ElektroG regulation (Electrical and Electronic Regulation) based on the WEEE directive came into force in Germany, according to which manufacturers or importers of electrical and electronic products must complete the registration of their products.
For cross-border e-commerce, WEEE certification is relatively complicated, so it is recommended to seek professional third-party certification organizations for certification.
Which products require WEEE certification
Take The German station as an example, WEEE certification is mainly aimed at a category of products.German ElektroG regulations classify electronic appliances into the following six categories:
Large home electronics
Heat exchanger
Display device
Gas discharge lamp
LED bulbs
Small electronic equipment, IT and telecommunications equipment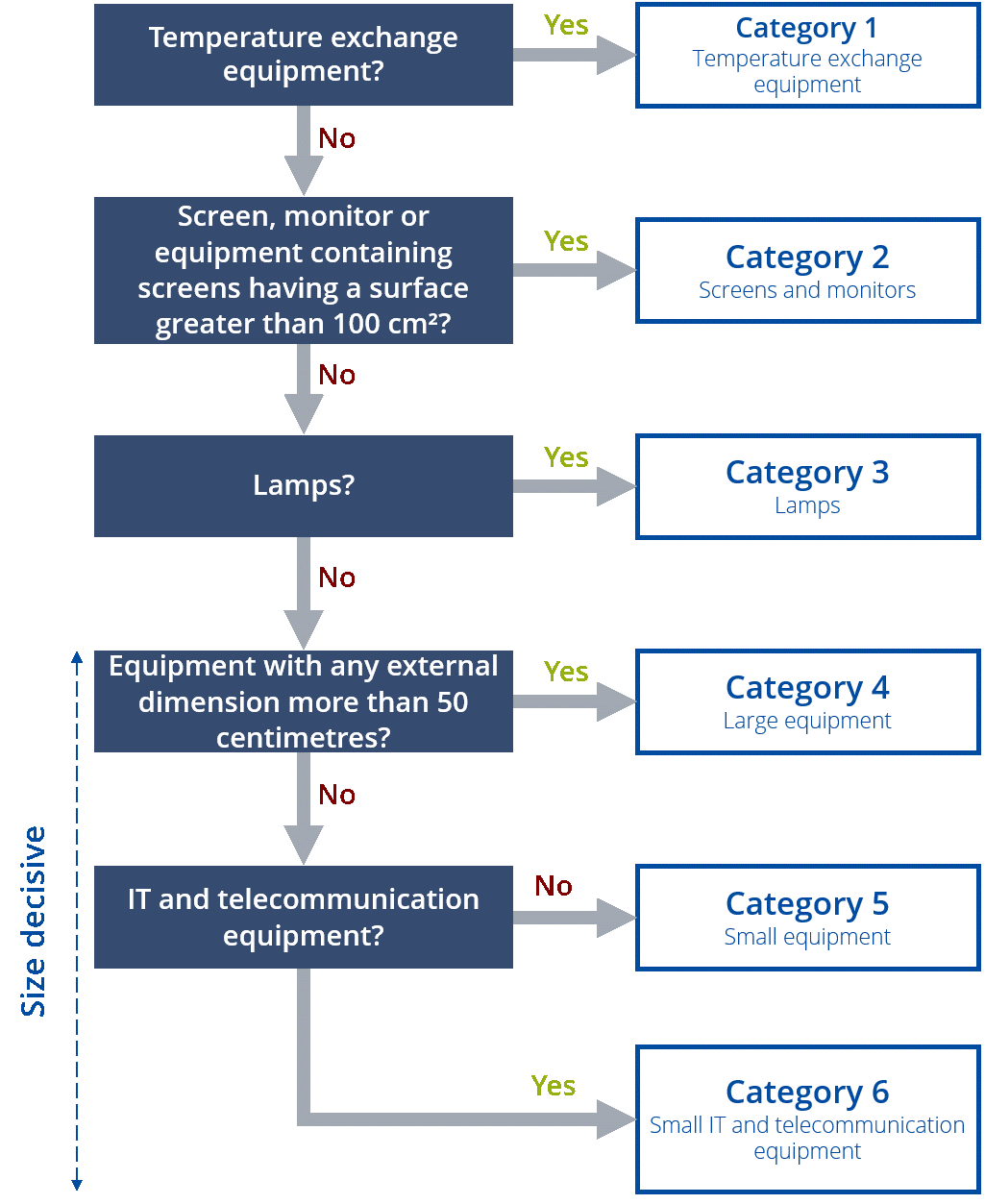 Documents required for WEEE certification
Company Details
Product Data Sheet (Product Information)
Product pictures;The picture clearly shows the brand of the product (the brand should be on the appliance, not on the package).
Website shop links * if there are
A short functional description in German * we will fill it out for you, but please provide the information.
A business license of the People's Republic of China in English, including a uniform social credit code/or certificate of incorporation of a company in the Hong Kong Special Administrative Region.
Certification takes about 8-12 weeks.
About the GST
On June 19, 2020, GST passed the audit of Amazon and became the compliance service recognized by its official platform, which also indicates that GST can provide tens of thousands of enterprise customers with more global credibility of the test and certification report, helping enterprises to go global.
As an e-commerce service platform with global influence, Amazon attaches great importance to the listing and sales of products within the platform and the selection of product testing and certification service providers.As a third-party testing service that has been established for more than 10 years, GST has a complete set of testing capabilities and supporting advanced instruments and equipment, and can provide relevant testing and certification services for many Amazon businesses.
GST has a professional technical team, which can check the product compliance problems for you, and track the latest developments of regulations and standards for you, so as to help you develop the most comprehensive and economic compliance program.If you need German WEEE certification, please contact us.